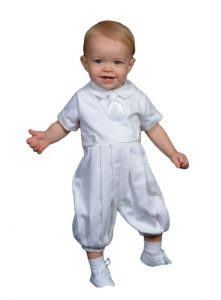 At Little Things Mean A Lot, we strive to produce the finest children's garments. Each garment is hand-crafted to exacting standards and must pass through a series of inspections before it reaches the consumer. However, if you will take a moment to inspect each shipment when it arrives to ensure that no damage has occurred in transit and to check for any flaws in material or workmanship, this practice will eliminate unpleasant confrontations with your customers. Problems can be dealt with much easier when handled early on between the retailer and the manufacturer. Please follow these steps to handle all returns and credit requests.
Request a Return Authorization (RA) number. You may request an RA number by phone, fax, or Email. All requests for returns must be made within 14 days of receipt of goods.  Please contact us for an RA number.
Do not return any merchandise until you receive the R.A. number. Your call alone does not authorize a return, nor should you arbitrarily deduct an amount of your choosing from any payment due. We will send you the proper instructions containing an R.A. number within 24 hours of your request.
Clearly mark problem area(s) with removable tape (or if tape might damage the garment, add a descriptive note) to help us quickly identify the problem you have detected. Enclose a copy of the R.A. form we sent you and return the item(s) within 14 days of the date the R.A. was issued. An R.A. is valid for 14 days only. After 14 days the R.A. is automatically voided and no credit will be granted. In order to receive credit when returning items, all original items of that set must be present set (hangers, slips, booties, hats, etc.)
Upon receipt of your shipment to us, please allow three (3) working days to review your findings and where appropriate, issue a refund. It is not uncommon to take one (1) week for your shipment to arrive. Your Credit Memo should be in your hands no later than two weeks after you return goods to us. We do not refund outbound shipping costs, we only refund product prices.
Returnable vs. Non-returnable Items:
Non-defective returned items must be in new original condition so they can be returned to stock. We cannot accept returns for items that have been damaged by the customer or that are missing original pieces.
The following are examples of items that are NOT returnable:
Soiled (mother's makeup stains, baby stains, grease, food stains, etc.)
Permeated by tobacco or other strong odors.
Incomplete sets (Missing a keepsake bag, heirloom hanger, slip, bonnet, hat, etc.)
Damaged by customer.
Weather, water, or sun-damaged.
'2nd Quality' or 'Final Sale' items
Credit will not be issued for non-returnable items. You will be notified if a return does not warrant a credit and will be given the opportunity to decide the disposition of the item(s) in question.
Return freight is generally the responsibility of the customer unless the situation dictates otherwise.
The customer is not responsible for items damaged in shipment or other inherent flaws. Return shipping will be arranged or refunded as needed.  Non-compliance to the return policy will result in a restocking fee.
Please remember, A Little Things Mean a Lot Return Authorization (RA) number is required for all returned items.